Donate to Hyperacusis Research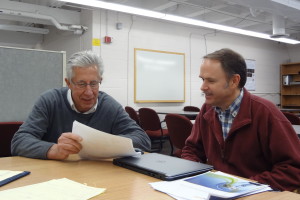 We have made significant progress in advancing the cause of Hyperacusis Research Limited, Inc. in the ear research community. It started with our participation in ARO's first Hyperacusis Research Workshop where hundreds of researchers were able to hear about the real lives of hyperacusis patients and the extent of the suffering many experience every day. At ARO, we built a strong network of connections with organizations such as the NIH NIDCD (National Institute of Health's division focused on ear disorders called National Institute on Deafness and Other Communication Disorders), and the military's Hearing Center for Excellence. We also talked to many researchers and encouraged them to have a focused effort on noise-induced pain in their hyperacusis work. A strong partnership has been forged with Rich Salvi's team at the University at Buffalo as we have visited his research lab three times over the last two years (see picture). We also helped connect many patients to those who are leading the way in hyperacusis research. We have made several visits to our strong partner in NYC – the Hearing Health Foundation (HHF).  The HHF administered our first grant and additional grants related to hyperacusis mechanisms will be announced soon.  All of these efforts need your generous support so we can support these researchers with the vital grant funds needed for hyperacusis research. Please donate today with your tax-deductible gift.
Please donate today through our secure PayPal link above.  Hyperacusis Research Limited, Inc. is a 501c3 organization and all donations are tax deductible.  We also encourage you to set up your own fundraising campaign on our FirstGiving site.  This is a secure way you can ask your friends to support this important effort.
You may also mail a check donation to:
Hyperacusis Research Limited, Inc
P.O. Box 1295
Marlboro, MA 01752