While many people desire a quieter environment, medical research is now showing that everyone may actually live a healthier life if we could make the world a quieter place.  From the city sounds of sirens and construction, to the blaring music in restaurants and shopping malls, to the sounds of lawn mowers and leaf blowers in the suburbs, loud noise seems inescapable. Even in homes and apartments, blenders, microwave ovens, and vacuum cleaners drive up the noise to uncomfortable levels.
Hyperacusis Research is committed to building awareness about the dangers of noise for everyone.  We are excited to join with The Quiet Coalition which is bringing all the latest research together and gathering partnering organizations to mitigate dangerous noise levels for the public (see full story).
In addition, hyperacusis sufferers experience challenges with noise that most people never have to think about. Some of these challenges can impact other important health concerns such as medical diagnostic testing or dental needs.
This section is devoted to sharing the latest information related to making our world a quieter place as well as ideas for quieter products for home, personal or medical needs.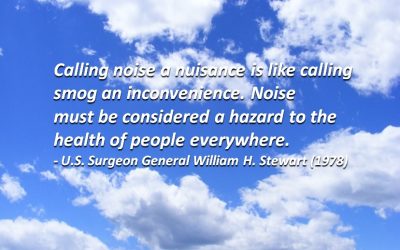 Hyperacusis Research is excited to announce the formation of The Quiet Coalition, which seeks to reduce environmental noise. Bryan Pollard, president of Hyperacusis Research, is a founding member. The Quiet Coalition consists of science, health, and legal professionals
read more