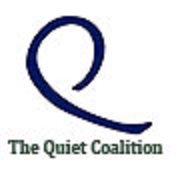 Hyperacusis Research is excited to announce the formation of The Quiet Coalition, which seeks to reduce environmental noise. Bryan Pollard, president of Hyperacusis Research, is a founding member.
The Quiet Coalition consists of science, health, and legal professionals concerned about the impacts of noise on health, environment, learning, productivity, and quality of life in America.
"We need to start working to educate elected officials and public health authorities that noise is a danger to health," writes Dr. Daniel Fink, one of the group's founders. "The goal of noise regulations, adapted from radiation exposure regulations, should be ALARA, As Low As Reasonably Achievable."
The Mission
"We believe an evidence-based approach to noise as a health and social problem, combined with educational outreach and organized action, can lead to meaningful change.  The Quiet Coalition provides a platform for communication, programs, and coordinated action for those trying to bring current medical and scientific knowledge to the process of creating a quieter, more sustainable, and livable world."
Read more about The Quiet Coalition and the latest noise research and news here.