Bryan Pollard, President of Hyperacusis Research, along with board member Michael Maholchic and his wife Betsy, attended the 8th annual Sense-ation! Gala for Massachusetts Eye and Ear Infirmary (MEEI).  Over 500 people attended the event, including the governor of Massachusetts.  More than $1.2 million was raised for research and patient care at MEEI.
Pictured at top: Betsy and Michael Maholchic
There were musical performances by Joey McIntyre and Clay Cook of the Zac Brown Band who shared how MEEI had impacted their lives.   Joey's son was born with hearing loss and Clay suffered from a cholesteatoma.
The event highlighted stories of inspiration and hope from patients who gained or regained their sight or hearing from cutting-edge solutions at MEEI.  Families shared their testimony of dramatic improvement after treatment.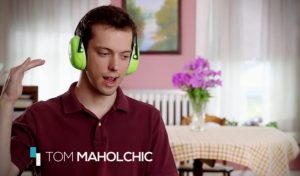 Only one condition was highlighted for a new area of research focus – hyperacusis. A video featured Tom Maholchic's story.   His parents, Michael and Betsy Maholchic, took the stage to describe what life at home has been like and why research is needed to find a cure.
Hyeracusis Research is grateful for this focus at the MEEI Gala.  In the past two years, we have funded two Emerging Research Grants (with our partner the Hearing Health Foundation), which provided a foundation that made this focus area for MEEI possible. With your generous support, we will continue to see research for hyperacusis grow at MEEI and other centers of auditory research worldwide.
We would also like to thank Charlie Liberman, Otology Professor, Harvard Medical School, Massachusetts Eye & Ear Infirmary, who was instrumental in this hyperacusis focus. See this link for more details and pictures from the MEEI Gala.