The Confucius Institute at the University at Buffalo and the AiEr Foundation from China sponsored an exciting Audiology Workshop on Hearing Disorders & Evaluation in July 2018. The event brought together about 20 leading Audiology and ENT clinicians and researchers from China with leading ear researchers from the University at Buffalo and other U.S. institutions. It provided an important collaboration opportunity for learning and discussion as China faces an unprecedented increase in auditory disorders including hearing loss, tinnitus and hyperacusis. An estimated 16.8% of the population is affected by hearing-related disabilities1. The prevalence rates of noise related deafness among Chinese workers from various industries, including manufacturing, textile, metal works, railroad and packing, range from 12.15 to 49.02% in reported Chinese studies.
Topics for the five day event included a broad range of auditory basics and challenges. Dr. Rich Salvi reviewed the fundamentals of Psychoacoustics while the event organizer, Dr. Wei Sun, reviewed Auditory Physiology and Hearing Evaluation approaches. Other talks focused on Acoustic and Noise Protection, Central Plasticity Caused by Noise Exposure, and Tinnitus Mechanisms.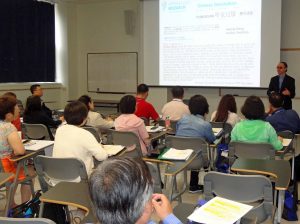 Bryan Pollard spoke about Hyperacusis and Pain Models. Bryan started by referring to some Chinese descriptions of hyperacusis which included the translated definition calling hyperacusis a "hearing allergy." Bryan summarized results of our Sanford CoRDS Hyperacusis Survey which has provided common characteristics of those who suffer hyperacusis with pain. Bryan emphasized some of the important hyperacusis projects at the University at Buffalo, especially Senthilvelan Manohar's animal model of hyperacusis with pain with the Auditory Nociception Test.
Interestingly, in China many tinnitus and hyperacusis patients are admitted to a hospital for several days as a first step in clinical assessment and treatment. Treatment often includes traditional Chinese medicine in addition to sound therapy.
Bryan participated in a tour of the Center for Hearing and Deafness and its labs as well as the UB Speech-Language and Hearing Clinic. Adam Sheppard, Ph.D., Au.D., who studied under Dr. Salvi at UB, has become a Clinical Assistant Professor at the Hearing Clinic. His background with a dual degree provides a strong understanding of the latest mechanisms being uncovered with animal models and he has the clinical experience working with patients. Bryan spoke with Adam about the need to create a project to determine if reaction time, used for hyperacusis animal models, could help assess hyperacusis in patients. This is an important possibility as it would create an objective measure of hyperacusis.
We are grateful Hyperacusis Research was able participate in this event. We are excited Dr. Salvi's team is partnering with various institutions in China to look for new ways to uncover the mechanisms of challenging disorders like hyperacusis and ultimately discover treatments that will lead to a cure.
1. Yongbing, S., Martin, W.H., J. Noise Induced Hearing Loss in China: A Potentially Costly Public Health Issue. Journal of Otology. 2013 Vol.8 No.1 https://doi.org/10.1016/S1672-2930(13)50007-9