Hyperacusis Research was excited to see the ABC News program 20/20 feature a segment entitled: "On the Quest for Silence: Living With Hyperacusis."
Hyperacusis Research worked with the producers as they prepared this show, and we are grateful to ABC News for taking an interest.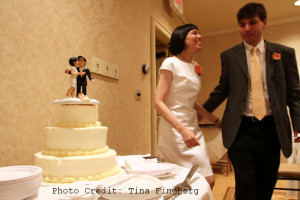 The segment features Joyce Cohen, author of the BuzzFeed article Noise Kills, and her husband, Ben. (At their wedding, the wedding cake was served on paper plates.)  See Joyce's hyperacusis diary on 20/20's website. The segment also features Eric, who acquired hyperacusis from mowing his lawn while listening to an iPod.
Scientific commentary is provided by M. Charles Liberman, an otology professor at Harvard Medical School and director of a hearing laboratory at the Massachusetts Eye & Ear Infirmary. His groundbreaking research shows that noise exposure has destructive consequences far beyond what was previously thought.
Warning: This segment will contain some loud noises, so please watch with the volume low.  The full segment on hyperacusis can be seen on ABC's 20/20 site.
We are heartened at the growing awareness of hyperacusis. We continue to work with researchers in order to understand the biological mechanisms of noise-induced pain and to improve the quality of life for sufferers. As always, your donations are gratefully received in order to further this mission.