Katrina Caro's hyperacusis developed after a blow to the face.
The sobering story of her injury and its aftermath is told in the New York Post.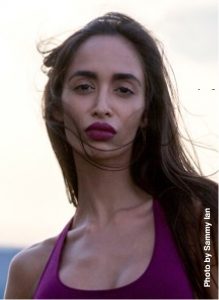 Katrina was working as a nightclub waitress when she was punched in the jaw. What appeared to be a dental injury turned out to be far worse. The jaw pain spread to her ears, causing hyperacusis. She has tinnitus, too.
Katrina's ear pain worsens readily with noise, which also gives her spasms.
Even a down coat is too loud. "I can't stand the sound of the swishing waterproof material and the zipper," Katrina says.
Hyperacusis Research president Bryan Pollard is quoted: "The pain is crippling and life-altering. Sounds as normal as a squeaky door feel like a knife in the ear."
What's more, "ear protection is not always sufficient. The latest science shows that damaged cells in the auditory system lead to neural degeneration over months and years, despite little detectable hearing loss."
Katrina has prepared a heartbreaking letter introducing herself to people she encounters, including those in waiting rooms. It reads, in part: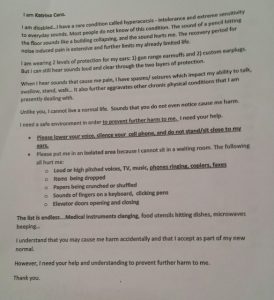 "I have a rare condition called hyperacusis — intolerance and extreme sensitivity to everyday sounds. Most people do not know of this condition.
Unlike you, I cannot live a normal life. Sounds that you do not even notice cause me harm.
I need a safe environment in order to prevent further harm to me. I need your help.
•  Please lower your voice, silence your cell phone, and do not stand/sit close to my ears.
• Please put me in an isolated area because I cannot sit in a waiting room.
The following all hurt me:
• Loud or high pitched voices, TV, music, phones ringing, copiers, faxes
• Items being dropped
• Papers being crunched or shuffled
• Sounds of fingers on a keyboard, clicking pens
• Elevator doors opening and closing.
I understand that you may cause me harm accidentally and that I accept as part of my new normal.
However, I need your help and understanding to prevent further harm to me."
Read Katrina's story here 
A GoFundMe campaign has been set up for Katrina's medical expenses.
The story has now been picked up by the DailyMail and there is a Spanish version on an Argentina news site.