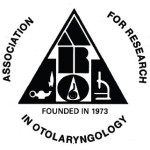 Hyperacusis Research was excited to participate in the Association for Research in Otolaryngology's Midwinter Meeting for the third consecutive year. The conference, which took place in Baltimore, MD, in February, 2015, brought together more than a thousand of the world's top otolaryngology researchers. Bryan Pollard, President of Hyperacusis Research, met with many researchers and other partners, and hosted our "Roadmap to a Cure" event (see separate post).
Partner and Researcher Meetings
Bryan was glad to meet with Claire Shultz (pictured), the Chief Executive Office of the Hearing Health Foundation (HHF), a vital partner of Hyperacusis Research. The focus of their discussion was the 2015 Emerging Research Grants dedicated to hyperacusis mechanisms. While Hyperacusis Research had initially planned to fund one grant this year, several excellent proposals were submitted. Thanks to the support of our generous donors, we were able to fund two grants.
Several families with loved ones afflicted by hyperacusis shared their stories at the "Roadmap to a Cure" event. They were also able to spend time communicating the difficulties of hyperacusis directly to researchers. During an unusually heavy snowstorm, Steven Barad, MD, and his wife Beverly, along with Michael and Betsy Maholchic, met with our Scientific Advisor, Rich Salvi, Clinical Professor of Otolaryngology, SUNY Buffalo, and James Kaltenbach, Staff and Director of Otology Research, Cleveland Clinic (pictured at top of post). The families explained the painful realities of hyperacusis. The discussion also included ways to augment our research efforts. Rich Salvi highlighted the need for NIH grants and other large sources of funding such as the Department of Defense, and the potential impact from congressional legislation. James Kaltenbach highlighted his findings showing an increased acoustic startle reflex from intense sound exposure, which seems indicative of hyperacusis. Comparisons to tinnitus were also discussed, as were ideas on how to better determine underlying differences in potential mechanisms between the two conditions.
Michael Maholchic joined Bryan for lunch with Paul Fuchs, Bordley Professor and Director of Research of Otolaryngology, Johns Hopkins University School of Medicine. Paul Fuchs explained how his work had focused on understanding the function of the Type II nerve fibers for the auditory system. (It has been well established that the primary auditory neural path is with Type I nerve fibers). He explained how Type II fibers have similarities to pain fibers and are excited by the release of ATP (which can be released in very loud noise exposures that induce tissue damage in the cochlea). This work builds the basis for the idea that Type II fibers are pain fibers and likely responsible for the pain anyone can experience from very loud sounds. Research is needed to determine whether these pain fibers are being activated in those with hyperacusis at much lower sound levels than normal. Paul was intrigued to discover that his work has significant implications for hyperacusis, a condition he had not previously considered relevant to his work. This discussion highlights an important dimension of Hyperacusis Research's mission — to reach out to the best researchers in the field and help them learn how their discoveries may be applicable to hyperacusis.
Bryan also met with two researchers from SUNY Buffalo. Sarah Hayes is a Neuroscience PhD candidate who is pursuing a duel AuD degree. This gives her the ability to work on basic research aspects in the lab and connect her work directly to patients in the clinical setting. Kelly Radziwon received her PhD in Cognitive Psychology and is currently a post-doctoral fellow in Rich Salvi's lab. One key aspect of their efforts is to uncover the best animal model for hyperacusis. This work is fully described in this paper: Hayes, Radziwon, Stolzberg, Salvi. Behavioral models of tinnitus and hyperacusis in animals. They conclude that the reaction-time paradigm produces one of the more reliable measures of responses to loudness. This methodology can also be used with people in a clinical setting. Sarah Hayes described plans to test this method in the clinic at SUNY.
Marlies Knipper has a paper describing "Recent developments regarding the basis of tinnitus and hyperacusis." Bryan was able to meet with her to discuss some of the key concepts being investigated at the University of Tübingen, where she leads the Tübingen Hearing Research Centre. Their studies confirm the involvement of peripheral outer hair cell nerve deafferentation for tinnitus and hyperacusis, but suggest that each disorder results from different brain responses to different degrees of deafferentation. While tinnitus may arise as a failure of the brain to adapt to deprived peripheral input, hyperacusis may result from an 'over-adaptive' increase in response gain. Moreover, moderate and high stress levels at the time of acoustic trauma have been suggested to play a pivotal role in the vulnerability of the cochlea to acoustic damage and therefore in the development of tinnitus and hyperacusis. At Hyperacusis Research, we greatly appreciate the fact that Marlies Knipper's work includes a comprehensive investigation of both the peripheral and central impacts, as both areas play vital roles for uncovering mechanisms as well as finding possibilities for a cure.
Bryan also attended several days of ARO conference talks on topics ranging from molecular changes in the inner ear in response to loud sounds to auditory hyperactivity associated with tinnitus. Additionally, he met with researchers who presented their findings in poster sessions and promoted more research for the mechanisms of hyperacusis.